Best Truck for Towing in Canada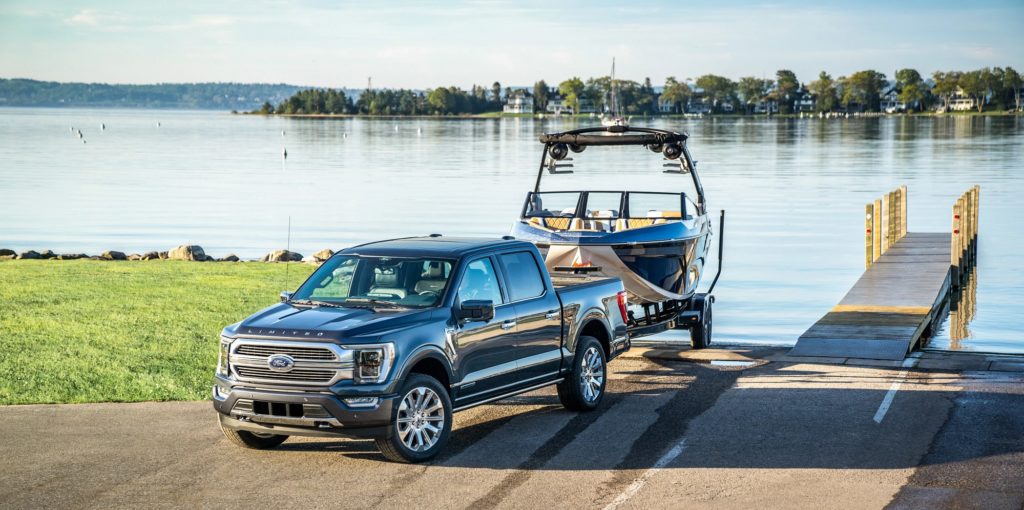 For those who need a pickup truck for their day to day affairs, 2021 is the year full of gifts from various manufacturers such as Ford, Toyota, Chevrolet, GMC, Honda, Nissan and many others as many of them have already tickled the senses of truck enthusiasts by opening the bookings of 2021 trucks.

In the race of being the best selling truck in Canada or to be the best truck to lease in Canada, everyone is try to match the sales and utility benchmarks set by 2021 Ford F150.
Which is the best seller trucks in Canada for the year 2020?
With 2020 Ford F150 and 2019 Ford F150 in the game, everybody just seems to struggle for second position.

According to not one, but all the surveys conducted by various agencies across the nation, Ford F150 is the undisputed king of trucks.

It is difficult to estimate the exact sales figure of Ford F150 truck line up but it is estimated to have sold somewhere between 25000 to 30000 trucks in Canada.

Not only among the trucks but it is the best selling vehicle in Canada capturing noticeable portion of all vehicles.
Why F150 is best seller in Canada?
Not only in Canada, F150 is the best selling truck in USA also.

There cannot be only one or two reasons. We are jotting down top 5 reasons out of many that makes Ford F150 the best seller for over 50 years straight in Canada.

First reason being, Ford F150 is the legend and dreams of many. It is the icon of power fused with practicality in Canada. If anyone needs a truck, F150 is the truck they desire.

Second reason is reliability and serviceability. Ford has been building F150 since decades and have improved since then. With its wide network of dealers and service providers who has to follow the strict guidelines set by Ford Motors keeping customer satisfaction at core, you can be rest assured about the best after-sales service you will get for Canada's favorite truck.

Third reason is an extensive trim to choose from. Whatever your requirements may be there is a Ford F150 for you. Starting from 31,429 CAD for base XL trim, it goes up to 86,725 CAD for heavily studded and high performing Limited trim featuring uncommon features and capabilities.

Fourth reason is the Ford CoPilot 360 and other available driver assist features. Ford CoPilot 360 is your safety and comfort companion on road looking out for you every driving minute. Features like BLIS and Ford pass makes a Ford a very integral part of user's life.

Fifth reason is reliable, powerful and enduring engine lineup. With its 6 engine line up it makes the perfect truck.
Available Engines for 2021 Ford F150
– 3.5L V6 Power Boost Full hybrid (430 Hp and 570 Lb-ft)
– 3.0L Power Stroke Turbo Diesel (250 Hp and 440 Lb-ft)
– 3.5L EcoBoost V6 (400 Hp and 500 Lb-ft)
– 5.0L Ti-VCT V8 (400 Hp and 410 Lb-ft)
– 2.7L EcoBoost V6 (325 Hp and 400 Lb-ft)
– 3.3L Ti-VCT V6 (290 Hp and 265 Lb-ft)
How much can a 2021 F150 Tow?
Best in Class available Towing – 14,000 lbs.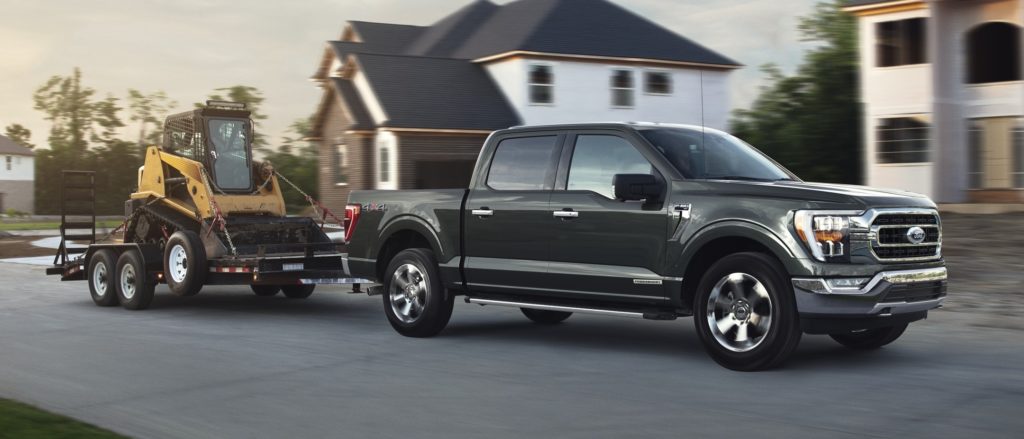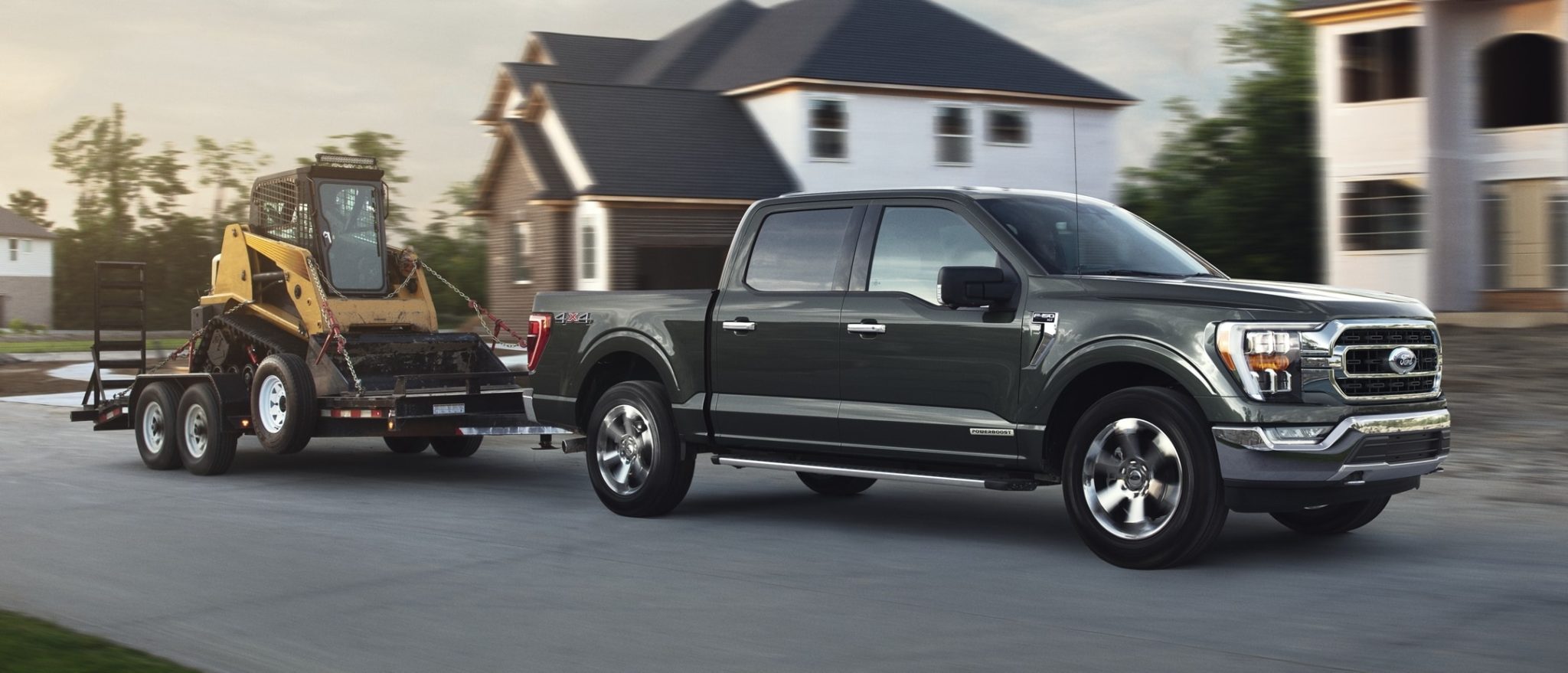 The all-new 2021 F150 does not pull punches. But it does pull just about everything else with best-in-class 14,000 lbs. of available towing capacity.*
*Maximum towing on F150 SuperCab 8′ box and SuperCrew 4×2 with available 3.5L EcoBoost, Max Trailer Tow Pkg. Not shown. F150 King Ranch SuperCrew 4×4 shown. Class is full size pickups under 8,500 lbs. GVWR. Max towing varies and is based on cargo, vehicle configuration, accessories and number of passengers.
Available BLIS (Blind Spot Info System) with Trailer Coverage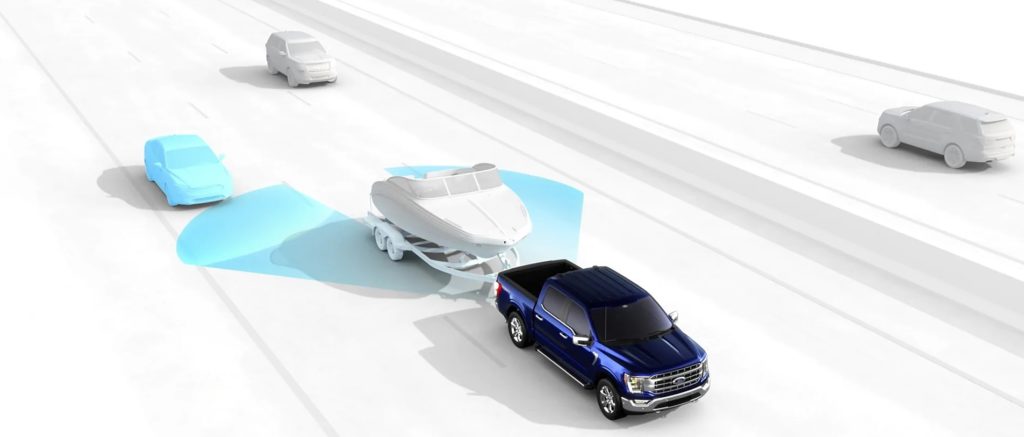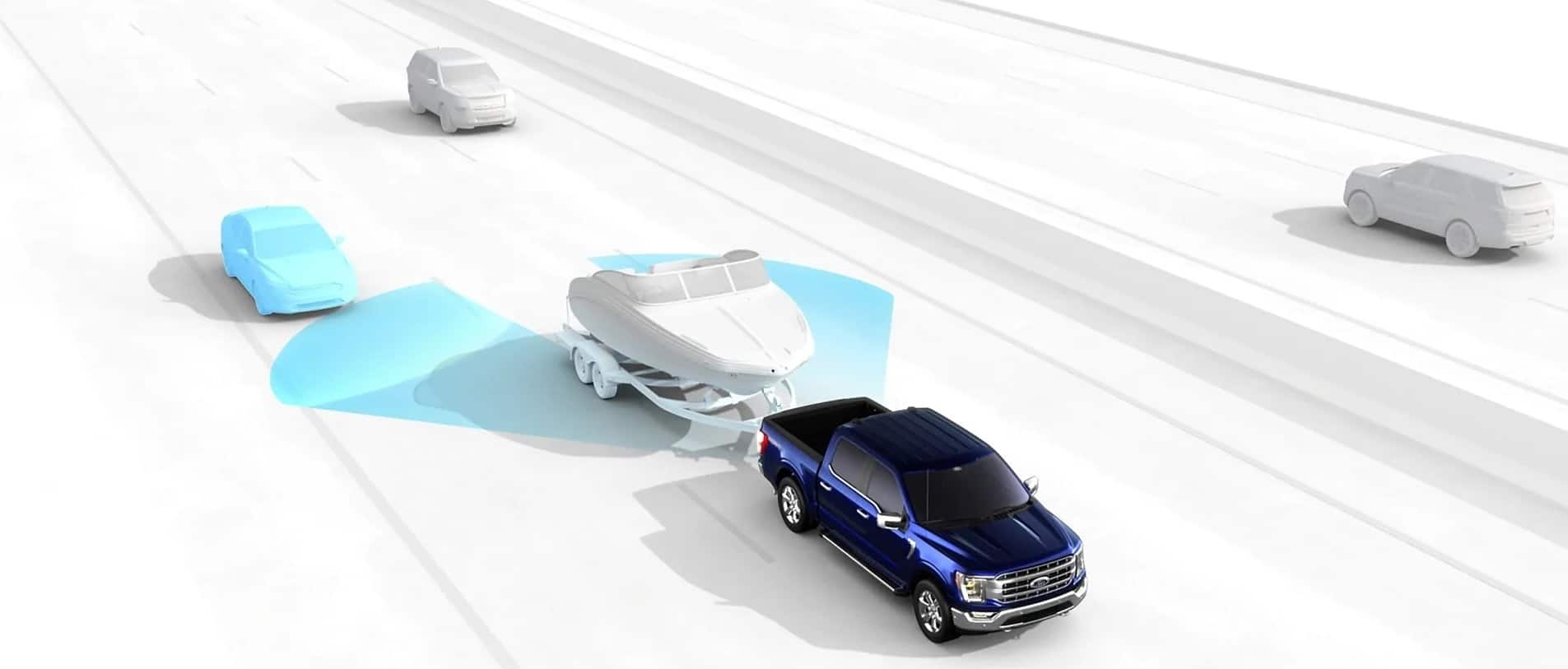 Lane Keeping System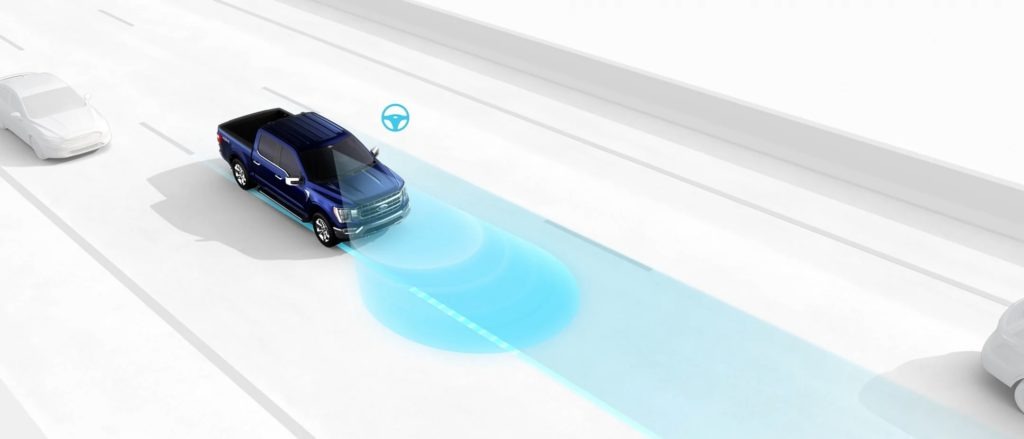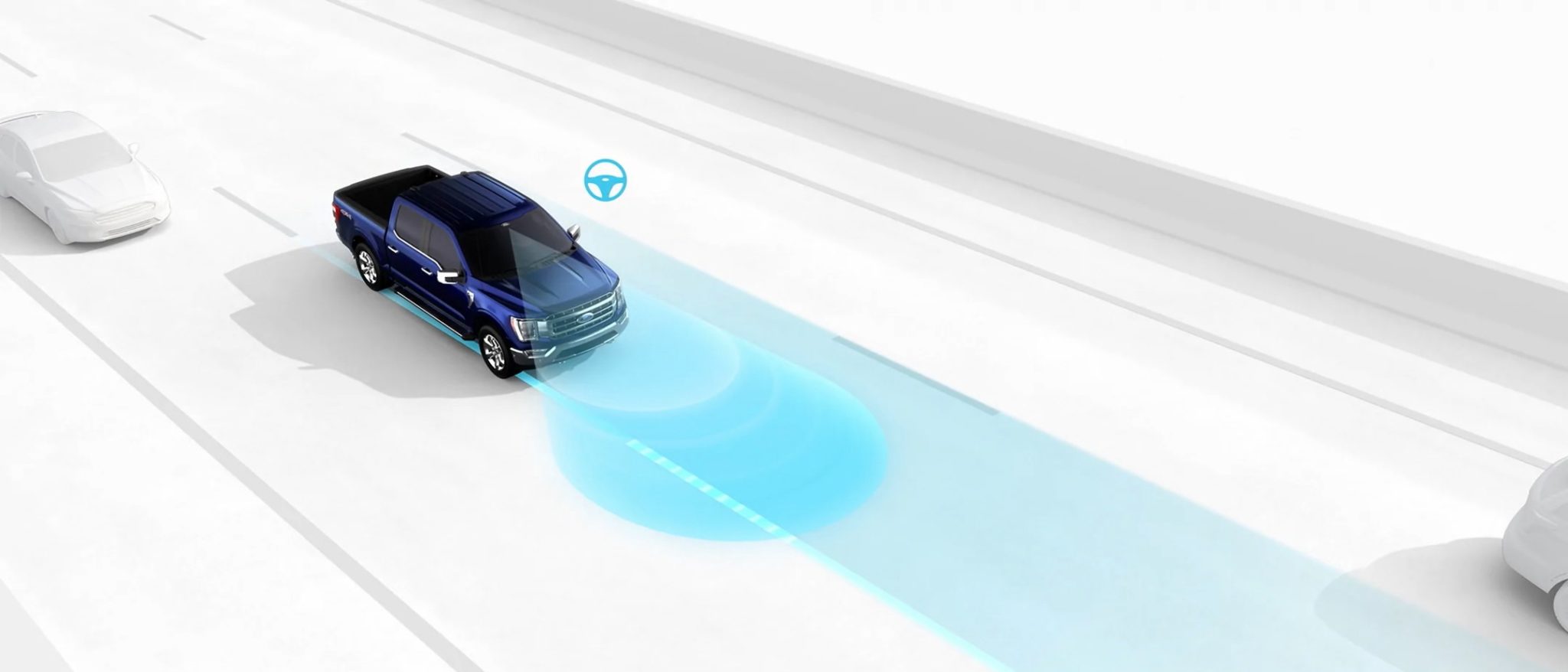 Which trucks are Ford F150's competitor?
F150 is an unbeatable ruler of trucks. But still there are trucks that try to match its reputation and they are
Toyota Tundra
GMC Sierra
Chevrolet Silverado
Dodge Ram 1500
Chevrolet Colorado
Honda Ridgeline
Jeep Gladiator
With each comes their pros and cons compared to Ford F150 but the entire package of power, comfort, utility, flexibility, safety and satisfaction can only be found in Ford F150.
In order to be considered the best pickup truck, even ranger is competing with Ford F150, how different is Ford Ranger when compared with Ford F150.
Difference between Ford Ranger and Ford F150
Ford Ranger is the younger sibling of Ford F150. Both share the same DNA and are equally capable with respect to their purpose.

Ford F150 is a full size truck while Ford Ranger is mid sized pickup truck.

If you are looking forward to the towing capability, power and mid size maneuverability, Ford Ranger is the best pickup truck to have. But if you are looking for massive pay loads and heavier tows with powerful engines, F150 is the right choice for you.

Ford Ranger is limited to only three trims while Ford F150 has double the number of trims to offer.

Ford Ranger Trims
– Ford Ranger XL
– Ford Ranger XLT
– Ford Ranger Lariat

Ford F150 Trims
– Ford F150 XL
– Ford F150 XLT
– Ford F150 King Ranch
– Ford F150 Platinum
– Ford F150 Lariat
– Ford F150 Limited

Apart from that, F150 has better off-road capabilities than Ford ranger.

When the towing capacity is compared its obvious that F150 is the Best Truck for Towing in Canada. It has more towing capacity than Ford ranger.

If you are in the market to Order a 2021 F150 in Canada, Yonge Steeles Ford is the place. Over 250 incoming units on the way and F150 Roush Dealership in Toronto.